<
PTAM
/>
>A real-time analytics solution for a Welsh Local Authority monitoring pupil transport activity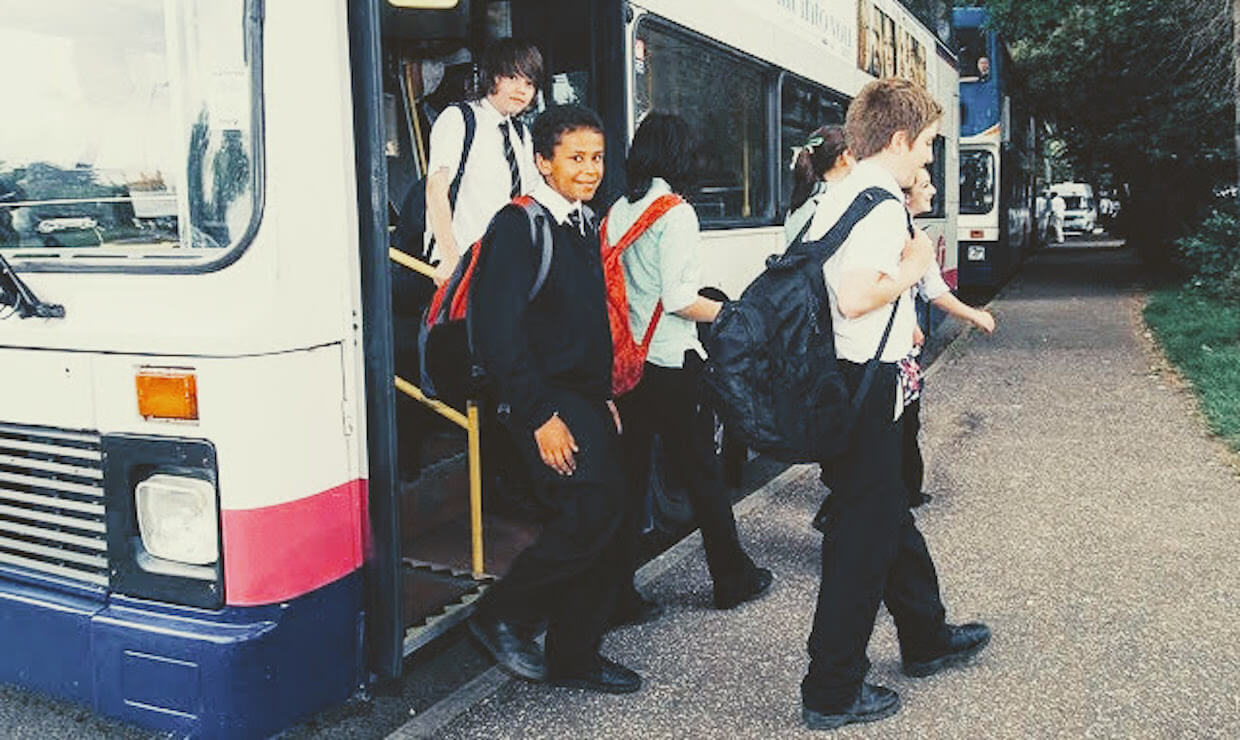 >The puzzle
A Welsh local authority (LA) needed to understand which pupils had shared a school bus so they could quickly and reliably identify who might have been exposed to COVID-19 on their vehicles.
In addition, they needed the capability to report back on school transport service utilization across all vehicles that carried pupils.
The client's pupil transport unit needed a system which could be implemented quickly and cost-effectively to cover nearly 300 services and the more than 5,750 pupils who were entitled to free school transport.
Existing solutions that met some of their requirements were expensive to buy and operate and were not suitable for usage in a number of the vehicles that were operated.
>Our approach
The solution needed to be integrated with the LA's existing pupil data systems which were run by their education department, as well obviously being GDPR compliant.
In addition, delivery deadlines were extremely tight, as the client needed to be able to beta test on a limited number of services, 2 weeks before the end of the summer term. Less than 10 weeks from project inception.
>The Solution
Our solution was to build an app and deploy it on Samsung devices to the bus drivers. The app meant that they could scan pupil passes and that the drivers could also log their shifts. The app was designed so it could operate where there was no data connection, and was bi-lingual.
The usage of the mobile devices was limited and controlled by what is called a headwind mobile device management system (MDM). This means the device is turned into a form of 'zombie' that can only be used specific for the task. This ensured that the devices could therefore not have access to the internet, SMS, Apps or store any personal data, its only usage was the app we created and uploaded to the devices.
The digital web application that sits at the centre of the system supports the management of pupils, establishments (schools), transport operators and transport services.
The system can manage the generation of new and replacement cards and account for stopped and lost cards. The reporting includes an exposure report, service utilization reports and other key metrics on the application's home page.
In addition, the system now supports operator logins so that service operators will be able to manage crew data themselves. 2 Factor authentication can also be applied to specific roles within the system such as schools being able to see the services that run to and from their school.
>Impact
In lay terms. It means that the county can now offer consolidated up to date timetable and service information, via a universally recognized file format, which can be shared with third party platforms.
It also offers analytics re: service utilization which means that the transport authority can consider its timetabling and whether to merge services or put on extra ones, based on the demand. As the data is presented in a map-centric format it is easy for route planners to consider how bus routes could be linked or changed, to provide a more efficient service.
In just four months and with a team of fourm Kodergarten:
Designed built and deployd an operational AWS hosted pilot system and then a live system.
Implemented a Headwind Mobile device management system that was integrated with Samsung Knox
Device staging and delivery of 300 Samsung units ready for deployment in the field
Designed system to be GDPR compliant, passed the LA's DPIA
Provided onsite training for operators
Delivered a private distribution bi-lingual Android Application for crew devices
Ensured that devices run in kiosk (locked down) mode meaning that device cannot be used for any purpose at all other than the App
• Implemented a multi-Local Authority/independent school data model which supports single logins for operator crew members.
SImple Travel Pass creation and management for School Transport Teams with QR and NFC card ID
System supports secure 2FA access for Schools and Operators as well as LA staff.
Extensive School Service, Routes and operator management and reporting functionality.

The system, which is operating successfully, has great potential to be scaled. Effectively it catapults school bus service managers and providers into the same territory as the airline industry, by giving it a digital platform that enables providers to know who is travelling on its vehicles and where and when.